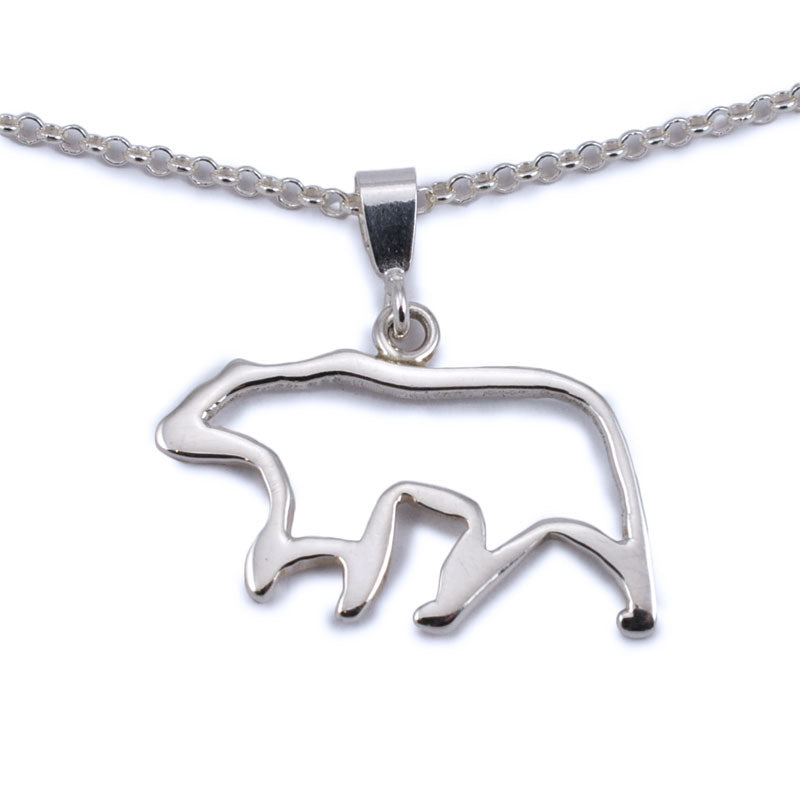 This inspiring sterling silver polar bear outline necklace makes a great gift for bear lovers.
It is the perfect piece of nature inspired jewellery for nature lovers, people who enjoy the great white north, and bear lovers. 
The bear in this necklace was named after a star - Vega is one of the brightest stars in the northern sky. 
To many, the bear is a symbol of strength, protection and peace.  It tells us to slow down, think deeply, and observe the life around us, so that if we do need to act, it is possible to do so at the right moment.  The bear reminds us to growl at adversity, to love powerfully, and be strong in times of need.
Kind of perfect, don't you think?
It also makes a great gift for World Wildlife Day and National Hiking Day.
How it is made:
Material: Sterling Silver
Technique: The sterling silver bear outline necklace was hand pierced (cut) from a solid sheet of sterling silver.
Chain:  The polar bear outline necklace hangs from a sterling silver rolo chain - chosen for its timeless beauty, durability and comfort.
Size: The actual silver bear measures 7/8 of an inch (23mm) nose to tail, and is roughly 1/2 an inch (12mm) tall
Look: A sweet polar bear outline necklace perfect for bear lovers.
Handmade by a trained goldsmith with great attention to detail paid to every aspect involved in the creation of this timeless piece. 
Vega Bear Outline Necklace
Sale price

$73.00 USD
Regular price
Choose options