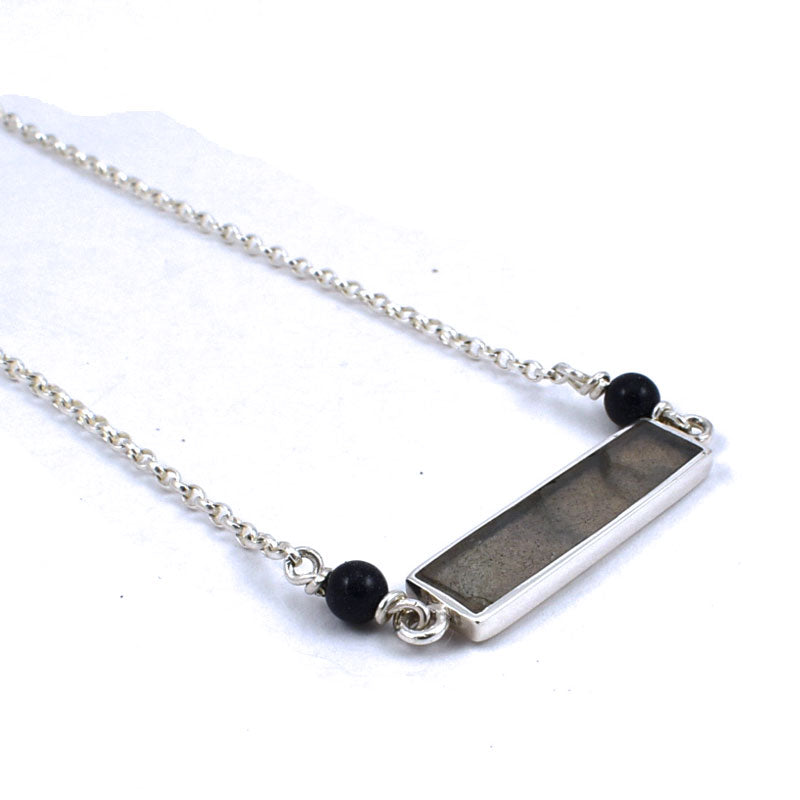 We use natural labradorite in this pendant.  Your necklace may look slightly different from the one pictured due to the natural variations in the gemstone.
This stunning horizontal rectangle labradorite necklace makes a great gift for women who love bold, daring geometric shapes. 
It is the perfect piece of modern art deco inspired jewellery for free-wheeling, independent women who love jewellery that's as vibrant and unique as they are.
The Lindy was a dance that lived in the moment, flowed with its music and was unabashedly joyful. It was a dance where the two partners maintained a smooth, gentle connection to one another.
Like the Lindy, the two blue goldstone beads maintain a gentle, flowing connection between the labradorite and the sterling silver chain.
There is no other gemstone like labradorite. 
It is believed to aid in enhancing your intuition, while enhancing perseverance and strength in the face of adversity.
Making this the perfect necklace for smart, classy, independent women.
The labradorite in this gorgeous horizontal rectangle necklace is exposed on both sides, letting the gemstone show on both sides as you're wearing them. 
This horizontal rectangle labradorite necklace also makes a stunning gift for someone special on Women's Equality Day.
The stone in this gemstone necklace has been treated with a clear resin as part of the inlay process.  This colourless resin serves to increase the durability of the stone without affecting its appearance in any way.
How it is made:
Materials: Sterling Silver, Blue Goldstone and Labradorite
Technique: This lovely piece of labradorite jewellery was made by inlaying the gemstone directly into a sterling silver frame.  A technique that takes time, skill and patience.
Chain:  The horizontal rectangle gemstone necklace hangs from a sterling silver rolo chain - chosen for its timeless beauty, durability and comfort.
Size: The actual gemstone rectangles measure 26mm long x 7.5mm wide x 3mm thick.
Look: Gorgeous detail within the natural labradorite gemstone is visible within this necklace.
Handmade in our Canadian studio by a trained goldsmith with great attention to detail paid to every aspect involved in the creation of this timeless piece. 
Lindy Horizontal Rectangle Labradorite Necklace
Sale price

$110.00 USD
Regular price
Choose options