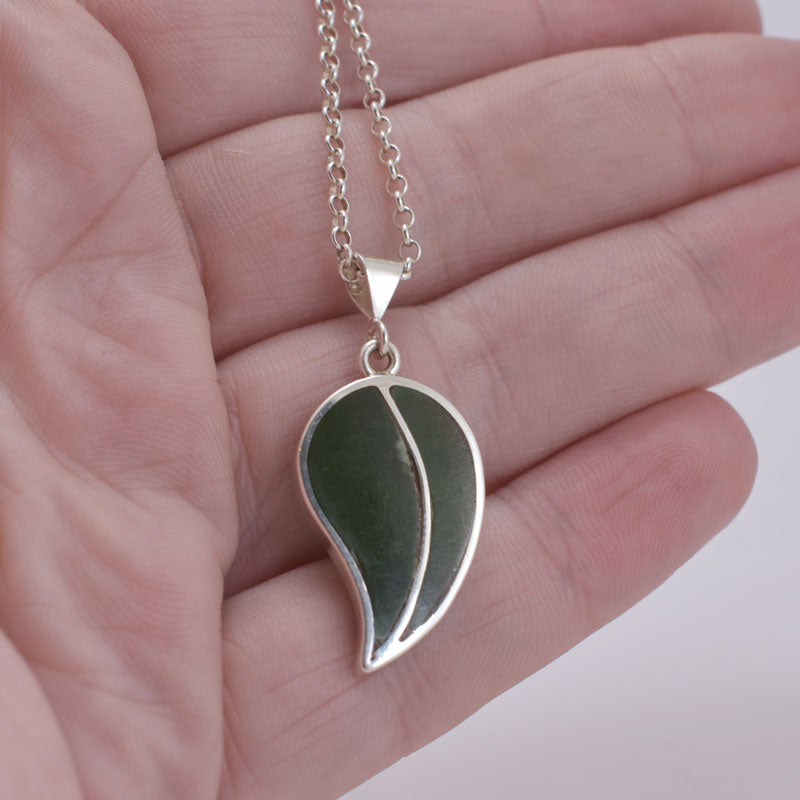 Engage in Enchantment with Our Handmade Jade Leaf Necklace!
Journey into a world where nature dances with whimsy.  Our Gemstone Inlay Leaf Necklace is here to guide you, perfect for those who adore the mystical allure of the fantastical.
Why It's a Dazzling Choice:
Handcrafted Whimsy: Our artisan jewellery's design is lightweight and comfortable for all-day wear while captivating the eye. This necklace's unique, imaginative design is further enhanced by the precision and quality of their craftsmanship, making it a piece to treasure.
Jade Jewels: The rich, vibrant hues of the jade are beautifully contrasted by the cool sheen of the sterling silver, creating a mesmerising piece sure to enchant. The delicate inlay work is testament to the quality of craftsmanship, enhancing the overall allure of this artisan necklace.
Sterling Silver Charisma: Set in high-quality sterling silver, this necklace features a creative leaf motif, a nod to the beauty of the natural world.
Your Quest Begins Here:
Whether you're searching for a touch of whimsy, a hint of fantasy, or simply want to elevate your everyday look with a dash of enchantment, our Jade Inlay Leaf Necklace is your companion on this quest.  Handmade and meticulously crafted, it makes a perfect gift for those who love to carry an essence of nature with them.
Inlay Leaf Necklace - Jade
Sale price

$142.00 USD
Regular price
Choose options